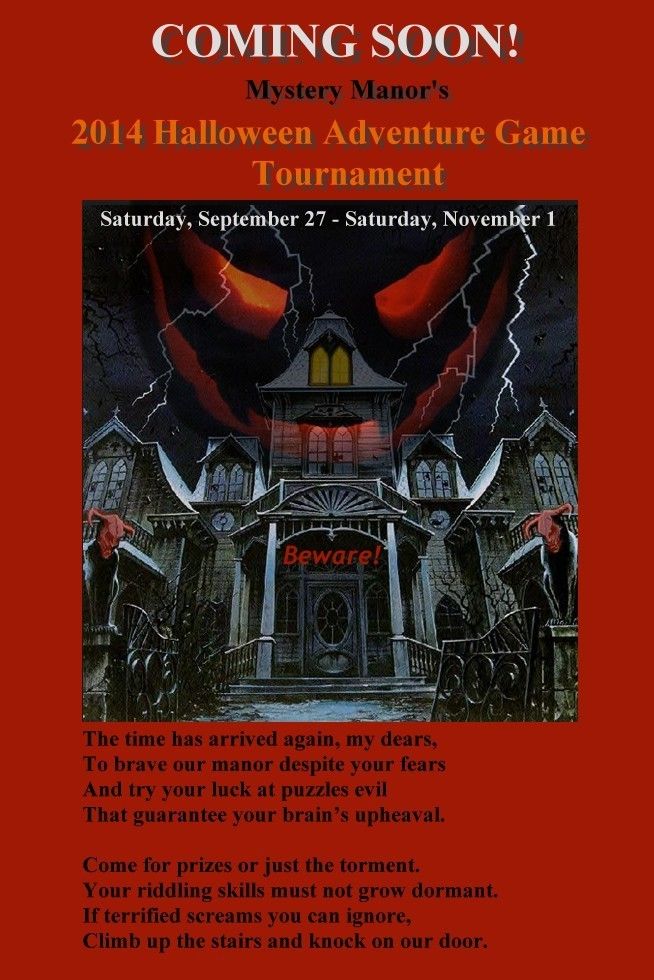 Rules of Mystery Manor's 2014 Halloween Adventure Games Tournament
WELCOME, BRAVE AND ADVENTUROUS PLAYERS!
Get ready for 5 weeks of trials and tribulations here at Mystery Manor! Please take the time to familiarize yourself with these rules before participating. It would be a shame if your efforts were for naught because you didn't follow the rules!
If you're new to Mystery Manor, all you have to do is register here in the forums to play. Please note that the registration process involves responding to an email from a MM administrator, so don't wait until the last minute to join us. (If you haven't heard from us 24 hours after registering, check your junk mail.) Once your registration is approved, feel free to introduce yourself in our Guest Book and to participate in any other topics that catch your interest.
TOURNAMENT DATES & GENERAL INFO
The tournament will run for 5 weeks
beginning on Saturday, September 27 and ending on Saturday, November 1.
Each week you will have 2 regular puzzles or one multi-part puzzle to solve, plus there may be another special puzzle for you to figure out during the course of tournament. You'll get more details about this on the starting day.
Each week's new puzzles will be posted on Saturday around 9:00 PM Central Daylight Time (CDT), which is Greenwich Mean Time (GMT/UTC) minus 5 hrs. Guesses for the week's puzzles will be accepted until 9:00 PM CDT the following Saturday. The answers to the puzzles and the scores will be posted soon after. If you want to set the time zone to CDT, check under preferences in your user control panel.
If our website's server goes down, the puzzle time limit may be extended, especially if it affects the end of any week of the tournament.
All puzzle threads will be locked to avoid the accidental posting of answers for all to see. There will be a thread for general questions and comments in the tournament section, but
please be careful not to post any hints there or anywhere else in the forums. If you do, you will be disqualified from playing for that week.
When in doubt, direct your questions to me or one of my hard-working slaves (aka moderators or administrators) via PM.
QUIZMASTER
Your guesses during the tournament must be sent by Private Message (PM) to me, Quizmaster. Please don't send any answers to anyone else on the staff, unless you are specifically directed to do so in the individual puzzle rules. You should receive a response within 24 hours. If not, please let me know.
PUZZLES
There are many different types of wicked puzzles in our tournament, and a variety of scoring methods will be used.
Please read the directions for each puzzle carefully.
If they aren't clear to you, contact me for clarification. If something needs explaining or correcting, I will post it in the tourney discussion thread, so check there frequently.
When submitting your guesses, please try to group your answers to limit the number of PM's you send each day. It keeps me from biting my claws and ruining my lovely manicure. Also,
please put the puzzle name in the subject line.
When submitting answers for both puzzles at the same time, please label them in the body of your message.
If your answer is the name of a game, please make sure it's complete. If it is one of a series, make sure you identify it with a number or the complete subtitle. If you just give the name, it will be assumed that you mean the first one in the series. Also, sometimes spelling does count, so check each puzzle's directions carefully.
Adventure games for the PC and/or Mac as well as the occasional console adventure will be used in this tournament, but be aware that this covers a broad spectrum and may include adventure games with some action or RPG elements, puzzle-heavy adventures, text adventures, and/or children's adventures. Indie-made, freeware, and fan-made games may also be included. Most of the games used will have an English version. The few that don't will either be known by their English titles or can be played with English subtitles. The screenshots used in some of the puzzles usually come from regular gameplay, but cut scenes, loading screens, and box shots also may be used.
PRIZES
The prize for each of the top three scorers of the tournament will be the player's choice of a new game. In addition, a consolation prize will be drawn from the names of those not in the top 3 places. To qualify for this drawing, a player must participate throughout the tourney.
Good luck and happy hair-pulling to all our players!
Quizmaster