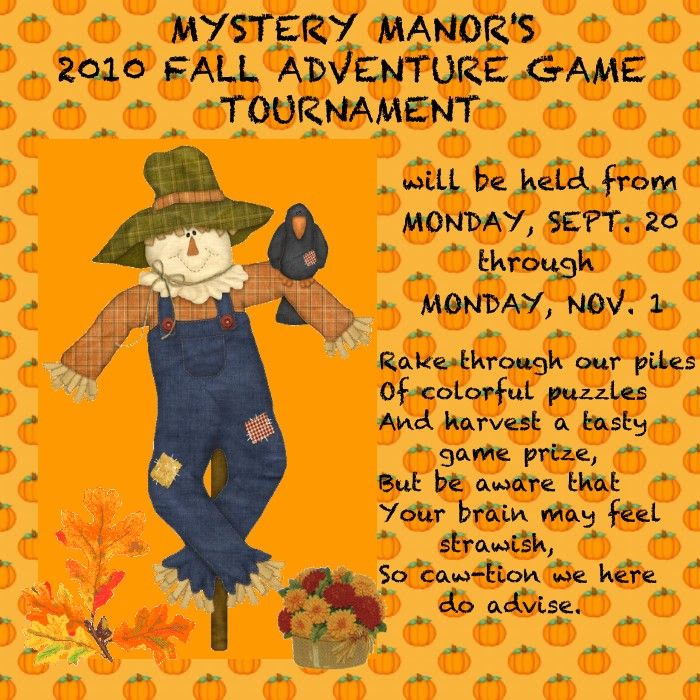 Rules of the 2010 Fall Adventure Games Tournament at Mystery Manor
It's good to see you here! Whether you're a returning veteran player or a newbie to our tourneys, we hope you're ready to have fun with 6 weeks of brain-bending puzzles! Please take the time to familiarize yourself with these rules before participating.
If you're new to Mystery Manor, all you have to do is register to play. However, we'd love to get to know you better, so take a minute, if you can, to post in our
Guest Book forum
and tell us something about yourself. Players from all over the world are eligible to play and try for our prizes.
TOURNAMENT DATES & GENERAL INFO
The tournament will run for 6 weeks
beginning on Monday, September 20 and ending on Monday, November 1, 2010.
Each week you will have 2 regular puzzles to solve, plus there may be another special puzzle for you to solve during the tournament. You'll get more details about this on the starting day.
Each week's new puzzles will be posted on Monday around 7:00 PM Central Daylight Time (CDT), which is Greenwich Mean Time (GMT) minus 5 hrs. (GMT is also known as UTC.) Guesses for the week's puzzles will be accepted until 7:00 PM CDT the following Monday. The answers to the puzzles and the scores will be posted soon after. For those who wish to syncronize their chronometers, the timezone can be set to CDT under preferences in your user control panel.
Although it doesn't happen very often, if the manor's server goes down, the puzzle time limit may be extended, especially if it affects the end of any week of the tournament.
All puzzle threads will be locked to avoid the accidental posting of answers for all to see. There will be a thread for general questions and comments in the tournament section, but
please be careful not to post any hints there or anywhere else in the forums. If you do, you will be disqualified from playing for that week.
When in doubt, direct your questions to Quizmaster or one of his hard-working slaves via PM.
QUIZMASTER
Your guesses during the tournament must be sent by Private Message (PM) to Quizmaster, our imaginary games master. We use QM to allow us all access to the same message box, so please don't send any answers to anyone else on the staff, unless you are specifically directed to do so in the individual puzzle rules. You should receive an answer within 24 hours. If not, please alert QM.
PUZZLES
There are many different types of puzzles in our tournament, and a variety of scoring methods will be used.
Please read the directions for each puzzle carefully.
If they aren't clear to you, contact QM for clarification.
When sending your guesses to QM, please try to limit the number of PM's you send each day. (One PM with 6 guesses is much easier on the scorers than six PMs with 1 guess each.) Also,
please put the puzzle name in the subject line.
When submitting answers for both puzzles at the same time, please label them in the body of your message.
If your answer is the name of a game, please make sure it's complete. If it is one of a series, make sure you identify it with a number or the complete subtitle. If you just give the name, it will be assumed that you mean the first one in the series.
Note:
Adventure games for the PC will be used in this tournament, but be aware that this covers a broad spectrum and may include adventure games with action or RPG elements, text adventures, and/or children's adventures. The games used will either be known by English titles or can be played with English subtitles. Games with an anticipated English release may also be used.
PRIZES
The prize for each of the top three scorers of the tournament will be the player's choice of a new game. In addition, at least 1 consolation prize will be drawn from the names of those not in the top 3 places, but a player must stay to the end of the tourney to qualify for this drawing. In the event of a tie for first place, a tie-breaking puzzle will be given to determine the winner.
Good luck and happy puzzling to all our players!
Sadistic Symbol Sudoku
1. Solve the Sudoku puzzle below. Sudoku is usually done with numbers instead of symbols, and you can find solving directions

here

.
Seriously Sadistic Symbol Search
2. Complete the following, as instructed in the image.
3. You have 6 weeks to complete this puzzle. Submit the name of the game in your final result in a PM to the Beast, NOT Quizmaster, anytime before the tourney's end on Monday, November 1, 2010 at 7:00 PM Central DS Time.

Scoring: You get one guess, and one guess only, for the game name; a correct guess will give you 250 points.

You do not need to submit your answers for the Sudoku or Symbol Search. However, if you want confirmation of your counts in the Symbol Search, you can "buy" hints as follows. Submit your symbol counts in a PM to the Beast, and he will tell you which of your counts are correct. Each of these results supplied by the Beast will be provided at a cost of 50 points, so, for example, if you request two count confirmations and subsequently enter the correct guess for the final game name, you will receive 150 points. No help will be given with the Sudoku.
The Beast's Überpuzzle Answers: